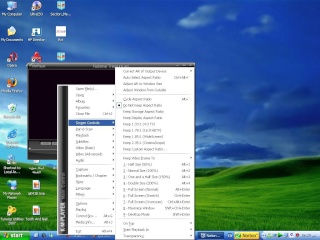 The perfect decoding is one section can realize each kind of popular video frequency, the HDTV playbacking and the code versatile video and music decoding package, brings Media Player Classic, KMPlayer, the PotPlayer three section of popular players, supports Jan, under the British language platform to install, can broadcast audiences many kinds of form and so on AVI, VCD, DVD, MPG, MP4, RMVB, TS, TP, EVO, M2TS, MKV, OGM, MOV, SCM, CSF, FLV video and music documents. The recommendation installs the environment is Windows XP/Vista, Windows Media Player 11, does not support Windows 9X. If also uses with Realplayer, please when install do not choose the Real decoding module, QuickTime is similar.
The installment matters needing attention and install the parameter:
One. Before the installment, please first unload with this software function similar decoding package and the player (including old version perfect decoding), and installs as far as possible under English table of contents.
Two. If must support HD-DVD/BD VC1 Remux(TS) the broadcast, must promote to Windows Media Player 11 can decode the VC-1 video frequency (also to be possible to install its runtime alone, wmfdist11.exe which after only installs WMP11 installation procedure bale breaking, obtains).
Three. The perfect decoding issue is for the purpose of sharing, does not tie up any hoodlum/advertisement plug-in unit, if certain monitoring software reported mistakenly that it contains the hoodlum/advertisement plug-in unit, please "do not doubt by the personnel, doubts the human not to use" point of view processing, declared specially, should not be redundant the inquiry.
Four. The silent installment's command line parameter is as follows: /S     – the silent installment (does not demonstrate user interface, if does not have other parameters, depends on system default language according to default setting installment default module) /D = way – to assign to install the table of contents the way Uses the above parameter to be possible to carry on simply has custom-made the installment, for example realizes the completely silent installment, and assigns to install the way is the E:Pure Codec form as follows (supposition perfect decoding document named PureCodec.exe):
PureCodec.exe /S /D =E:Pure Codec Renewal content: 20090826 – > 20091001 (the National Day commemorative edition)
- renews The KMPlayer 2.9.4.143 5 (EVR exaggeration support captions)
- to renew Daum PotPlayer 1.4.20129
- to renew Media Player Classic Homecinema 1.3.1290
- to renew Media Player Classic Homecinema Filters 1.3.1290
- to renew the RealPlayer 12.0.0.30 1 to decode the module
- to renew ffdshow rev3092 20090927 clsid
- to renew ATI VC-1 Video the Decoder 10.9.0.40 813
- to renew x264 Vfw Encoder 1259
- to renew MediaInfo 0.7.22
- renewal captions tool submux.exe and subresync.exe
- restores Monkey Audio DirectShow the Filter 4.06 modules (to be good to the APE support)
- the whole optimization to adjust and to revise some questions
Download From Easy-Share.com
Download From Uploadbox.com
Enjoy...