Yahoo messenger is popular instant messenger. But, i used to get frustrated when some of my friends used to hide on Yahoo messenger and one is not able to know whether your Yahoo messenger friend is online or invisible and hidden. So, these hidden / invisible friends on Yahoo messenger cannot be revealed normally and hence, i will inform you over here, 6 hacks to find hidden / invisible friends on Yahoo Messenger.
6 ways to find invisible friends on Yahoo Messenger :
1. Buddyspy :
This program Buddyspy is intended to inform you about current status of your friend on Yahoo Messenger. It is also useful in knowing current activity of Yahoo Messenger user. It informs you whether user is online, what chat rooms they are in, whether their webcam is online.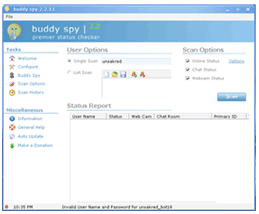 2. Xeeber :
Xeeber is an Yahoo Messenger useful online service used to know current status of Yahoo Messenger user whether he is online, offline or in invisible or hidden mode.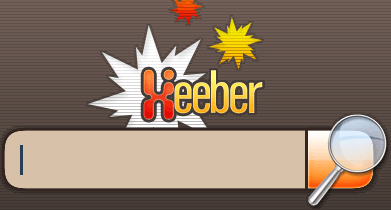 3. Yahoo Invisible scanner :

Yahoo Invisible scanner is a Yahoo messenger useful service same as Xeeber. Here, you have to enter friend's Yahoo ID to know his current status and find out whether he is hiding. Thanks Boxx for your apt comment.
4. Vngrabber :
This is most efficient Yahoo messenger invisible user checker, superior to even Xeeber in many aspects. Here, you have to enter Yahoo ID of your Yahoo messenger friend to know whether he is in invisible mode on Yahoo messenger. The main problem of Vngrabber is its busy most of times and you are not even able to visit it.
5. Buddycheck :
This is different from above all which are mostly online services. Buddycheck is a software program which allows you to add friends to contact list and then view their current status whether they are hiding or are invisible. The program is priced $19.95, but you can use its trial version for free for 10 days (too short !!) .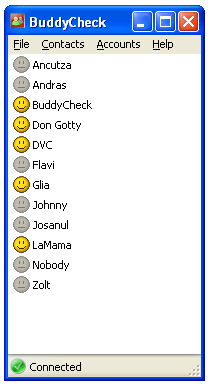 6. Doodle IMvironment trick :
What you do here is simply open your friend's IM box and send him a message. Then change the IMvironment to Doodle. After Doodle loads (1-2 minutes) , it will display the message "Waiting for your friend to load Doodle", if your friend is offline. But, if he is online, it will appear blank.
So friends, try out one of these 6 Yahoo messenger hacks and find out your hidden invisible friends on Yahoo messenger. I have used most of these Yahoo messenger services and found to be working cool. If you have any problem using these ways to find hidden invisible Yahoo messenger friends, just mention it in comments section.
Enjoy…..